Buy DVD

ת"א: האוזן השלישית

70 min

English / Hebrew subtitles

PAL system 3/4

30$ (Delivery charge is included)
Reviews from customers
Met; or La Scala; Please Stage it!
author: Lars vd H. (CD Baby)
"I have dream" of Epsteins Dybbuk with the same crew at the Met, la Scala or Bastille..orchestrated: Please let my dream come true! This DVD is important; It spreads Yiddish & jewish folklore through an opera & it does it well, even though I really miss subtitles in Yiddish. I don't think that the ordinary "Pavarotian" would enjoy Dybbuk, but it's good to spread it around. The DVD is simple but well done, the piano and the props disturbs me, but the story and crew are good. It's worth more than all cents and minutes you spend, as it quite cheap to buy. Thus; Buy 2, give one to a friend & discuss your last Dybbuk-encounter on DVD or IRL.
the stage production was excellent
author: Yael. (CD Baby)
I haven't yet watched the DVD, but I did see the original stage production (recorded on the DVD), and found it unique and fascinating. The famous story was beautifully dramatized, the music powerful, and the staging very effective. It seemed to me that Yiddish is a perfect language for opera, which brought up the question how come it took so long for someone to do it. I've been waiting for a chance to see it again…
---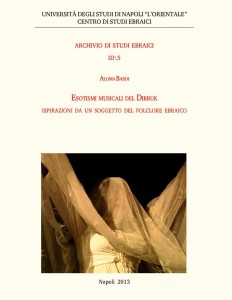 Aloma Bardi, Esotismi musicali del Dibbuk. Ispirazioni da un soggetto del folclore ebraico, Centro di Studi Ebraici – Università "L'Orientale", Napoli 2014. In 8°, 204 pp., ISBN 978-88-6719-056-0.